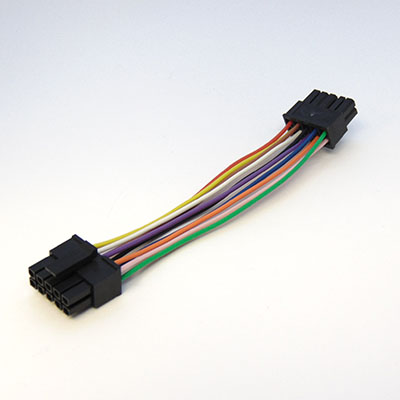 Crimp Information
In the table below you can see some information on crimps that we use in our cable assemblies and have tooling for.
We are always happy to receive enquiries for cable assemblies and looms that require crimped terminals. We only use genuine manufacturers' crimps and housing for our assemblies, which means that you are assured of a quality assembly every time.
If you click on the crimp picture below you will be able to link to the manufacturer's page for the part, for further information.
This information is given as a guideline and we are happy to receive enquires for other crimped terminals not listed below.
Molex
Range
Connector Type
Circuits
Current
Crimp Numbers
Pitch
AWG
Standard
Power Connectors
1-15
17A
02-09-1104
5.03mm
14-22
KK
Wire to Board Connectors
2-36
4A
2.54mm
22-30
KK
Wire to Board Connectors
2-24
7A
3.96mm

18-22
18-24
22-26
18-20

SPOX
Wire to Board Connectors
2-9
3.96mm
18-24
Mega Fit
Power Connectors
2-8
26A
172063-0311
5.7mm
12-16
Mini Fit
Power Connectors
3-6
13A
4.2mm
16-28
Mini Fit Snr
Power Connectors
2-14
50A
42815-0042
10.00mm
8-16
Micro Fit
Power Connectors
2-24
10.5A
3.0mm
18-30
Sabre
Power Connectors
2-8
43375-0001
7.5mm
14.24
PicoBlade
Wire to Board Connectors
2-15
1.25mm
26-32

PicoClasp

Wire to Board Connectors
2-50
2A
501334-0100
1.00mm
28-32
Micro Latch
Wire to Board Connectors
2-15
4.5A
50212-8000
2.00mm
22-26
24-28
24-30
Mighty Spox
Wire to Wire and Wire to Board Connectors
2-15
50217-8000
3.5mm
18-24
CLIK-Mate
Wire to Board Connectors
2-34
1.25mm/1.50mm/2.00mm
26-28
Pico-Lock
Wire to Board Connectors
2-12
2.5A
504052-0098
1.00mm
28-30
Pico-Lock
Wire to Board Connectors
2-12
3.5A
504052-0098
1.50mm
24-28
Mini-Latch
Wire to Board Connectors
2-15
2.5mm
22-28

MicroClasp

Wire to Board Connectors
2-40
3A
56134-8100
2.00mm
22-28
Pico-SPOX
Wire to Board Connectors
2-15
3.5A
87421-0000
1.50mm
26-30
24-26
C-Grid III
Modular Crimp Housings
1-80
3A
2.54mm
22-24
26-28
Tyco / Amp/ TE
Range
Connector Type
Circuits
Current
Crimp Numbers
Pitch
AWG
Multilock 0025
Wire to Wire, Wire to Board and ECU
4-40
5A
1318143-1
2.2mm

20-26

Mate-N-Lok
Wire to Board
2-15
19A
5.1mm/6.35mm
20-24
16-20
Amp Circular Connectors
Circular Connectors
Various
2A

1658537-3

N/A
24-20
AMPower
Circular Connectors
Various
160A

66103-4

N/A
24-20
AMPower
Circular Connectors
Various
13A

66105-4

N/A
24-20
Amplimite
Subminiture D Connectors
9-78
28-22
Economy Interconnection System
Wire to Board, Wire to Wire
2-20
2A-5A
2.5mm
26-20
AMPMODU HE13/HE14
Wire to Board
3-36
3A
182734-2
2.54mm
28-24
FASTIN-FASTON 250
Coupling Connectors
1-8
6.35mm
14-18
10-14
Hirose
Range
Connector Type
Circuits
Current
Crimp Numbers
Pitch
AWG
DF11 Series
Wire to Board
4-32
1A
DF11-2428SC
2.0mm
30-22
DF13 Series
Wire to Board
2-15
2.5A
DF13-2630SCFA
1.25mm
32-26
DF14 Series
Wire to Board
2-30
1A
DF14-2628SCFA
1.25mm
28-26
DF19 Series
Wire to Board
8-30
1A
DF19A-2830SCFA
1.0mm
30-28
DF3 Series
Wire to Board
2-8
3A
DF3-2428SC
2.0mm
28-24
DF4 Series
Direct to Board Mount
2-32
1A-3A
DF4-2428PC(05)
2.0mm
28-24
DF57 Series
Wire to Board
2-6
1A-2.5A
DF57-2830SCF
1.2mm
28-30
DF65 Series
Wire to Board
3.7
2A-4A
DF65-2428SCF
1.7mm
28-24
Harwin
Range
Connector Type
Circuits
Current
Crimp Numbers
Pitch
AWG
Datamate L-Tek
Cable Socket Connector
2-96
3.3A-8.5A
2.0mm
28-24
Bulgin
Range
Connector Type
Circuits
Current
Crimp Numbers
Pitch
AWG
Standard Bucaneer
Circular Connector
2-25
8A
SA3347
N/A
26-22
Souriau
Range
Connector Type
Circuits
Current
Crimp Numbers
Pitch
AWG
UTS Series
IP68/69K Waterproof Connector
2-32
13A
SC16ML11D70
N/A
18-16
UTO Series
Robust Metal Shielded Connector
2-61
13A
SC16ML11S31
N/A
18-16
UTG Series
Metal and Plastic Connector for Heavy Use
2-48
13A
SC20ML1D70
N/A
22-20
UTL Series
UL/IEC Power + Control Supply
3-8
20A
SC20ML1S31
N/A
22-20
UTP Series
Circular Connector
3-48
SC24ML1S31
N/A
26-24
SMS Series
Quick Mating
2-36
SC20ML1D70
N/A
22-20
MBG Series
Long Endurance Plastic Connector
4-46
SC20ML1S31
N/A
22-20
JST
Range
Connector Type
Circuits
Current
Crimp Numbers
Pitch
AWG
XH Series
Wire to Board
1-20
3A
BXH-001T-P0.6
2.5mm
28-22
NH Series
Wire to Board
2-25
3A
SHF-001T-0.8BS
2.5mm
28-22
PH Series
Wire to Board
2-16
2A
SPH-002T-P0.5S
2.0mm

30-24

PHD Series
Wire to Board
8-34
3A
SPHD-001-P0.5
2.0mm
22-26
PUD Series
Wire to Board
8-40
3A
SPUD-002T-P0.5
2.0mm
28-24
SH Series
Wire to Board
2-20
1A
SSH-003T-P0.2-H
1.0mm
32-28
VH Series
Wire to Board
2-10
10A
SVH-21T-P1.1
3.96mm
22-18
VB Series
Wire to Board
2-12
7A
SVH-21T-P1.1
5.08mm
22-18
NV Series
Wire to Board
2-4
10A
SVH-21T-P1.1
5mm
22-18
XH Series
Wire to Board
1-20
3A
SXH-001T-P0.6
2.5mm
28-22
SM Series
Relay Connector
2-18
3A

2.5mm
28-22
RCY Series
Relay Connector
2
3A
SYM-001T-P0.6
2.5mm
28-22
ZH Series
Wire to Board
2-13
1A
SZH-002T-P0.5
1.5mm
28-26