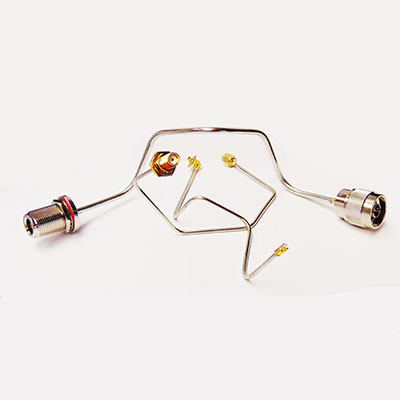 Features
Precision Made 50 ohm Impedance Cables
Low Voltage Standing Wave Ratio (VSWR)
High Level Shielding
Can be formed into a 2 or 3 dimensional shape
For more information on Semi Rigid cable assemblies, please refer to our guide to the technology.
For more technical information, design assistance or a quotation on your specification, please contact us directly at sales@cambridgeelectronics.com
Semi Rigid Cables
Cambridge Electronic Industries are happy to offer a range of Semi Rigid cable assemblies. From your initial request, we will review your requirement and create 2 or 3-dimensional drawings, depending on the wiring scheme. These drawings are created to ensure the accuracy of the finished product. To achieve perfect results requires specialised tools that allow the cable to be bent and formed without damaging the outer tubing. All connectors are soldered to the cable with the utmost precision.
When discussing your requirements, we will tailor the testing regime you require to qualify your assemblies to the final application and ensure that our products adhere to the highest level of performance, quality and reliability.
At Cambridge Electronic Industries we have the tools and experience to manufacture your semi rigid cable assemblies to the highest quality. We are happy to accept orders for volumes from prototyping quantities to large scale production and will provide the best lead-time possible.