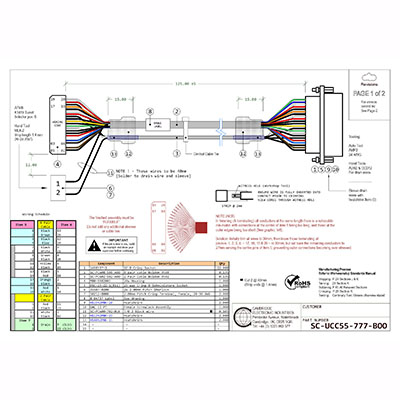 Features
We take your requirement and translate into a finished product
We produce production drawings and test plans
All products are overseen by our quality department to ensure the highest quality
Our expertise can advise you on the best products for your application
Bespoke design of products to fit your application
For more technical information, design assistance or a quotation on your specification, please contact us directly at sales@cambridgeelectronics.com
Bespoke Cable Assemblies
At Cambridge Electronic Industries we have had a cable manufacturing facility at our Waterbeach Head Office since 1988.
Over the years we have gained expertise in designing and manufacturing cable assemblies from standard products to specialised looms and unique specifications. From your requirement, we offer our advice on the best connectors and cable to use to complete your application, giving the optimum performance for the best price.
We produce production drawings prior to manufacture and each job is reviewed, in early production, to ensure a quality, fully tested product, which always ensures your finished cables are perfect for fit, form and function.
We are happy to produce cables at our Waterbeach facility for prototyping up to small scale production runs and are able to offer large scale production from our overseas manufacturing facility, with whom we have been partnered for over 25 years.