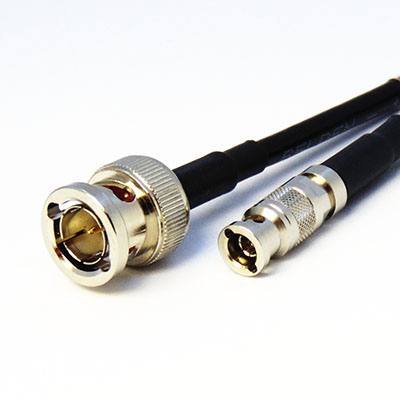 Coaxial Cable Information
In the table below you can see some information on cables that we use in our cable assemblies and have designed cable connectors for.
We are always happy to receive enquiries for coax cable assemblies and to discuss your requirements.
If you click on the cable type below you will be able to see the information about the cable as well as some suggestions for cable connectors to go with these.
This information is given as a guideline, as different manufacturers may use different materials.
Cable Type
Cable Group
Operating Frequency
Impedance
Jacket Material / Size
Dielectric Material / Size
Centre Conductor Material / Size
Conductor Type
Shielding Outer Conductor
Belden 1505A
AB
DC-6GHz
75 ohms
PVC / 5.92mm
FHDPE / 3.68mm
Copper / 0.81mm
Solid
Tinned Copper Braid & Foil
Belden 1505F
BC
DC-6GHz
75 ohms
PVC / 6.15mm
FHDPE / 3.68mm
Compacted Copper / 0.79mm
Stranded/Flexible
Tinned Copper Braid
Belden 1694A
AS/BH
DC-6GHz
75 ohms
PVC / 6.96mm
FHDPE / 4.57mm
Copper / 1.02mm
Solid
Tinned Copper Braid & Foil
Belden 1694F
AS/BH
DC-6GHz
75 ohms
PVC / 7.01mm
FHDPE / 4.57mm
Copper / 1.02mm
Stranded/Flexible
Tinned Copper Braid & Foil
Belden 1794A
BD
DC-6GHz
75 ohms
PVC / 8.13mm
FHDPE / 5.72mm
Copper / 1.29mm
Solid
Tinned Copper Braid & Foil
Belden 1855A
BA/BG
DC-6GHz
75 ohms
PVC / 4.04mm
FHDPE / 2.59mm
Copper / 0.58mm
Solid
Tinned Copper Braid & Foil
Belden 1855ENF
BG
DC-6GHz
75 ohms
LSZH / 4.45mm
Foam PE / 2.9mm
Copper / 0.65mm
Stranded
Tinned Copper Braid & Foil
Belden 1855ENH
BG
DC-6GHz
75 ohms
LSZH / 4.45mm
Foam PE / 2.9mm
Copper / 0.65mm
Solid
Tinned Copper Braid & Foil
Belden 4505R
AB
DC-12GHz
75 ohms
PVC / 5.92mm
FHDPE / 3.68mm
Silver Plated Copper / 0.81mm
Solid
Tinned Copper Braid & Foil
Belden 4694R
AS/BH
DC-12GHz
75 ohms
PVC / 6.96mm
FHDPE / 4.57mm
Silver Plated Copper / 1.02mm
Solid
Tinned Copper Braid & Foil
Belden 4855R
BA/BG
DC-12GHz
75 ohms
PVC / 4.09mm
FHDPE / 2.59mm
Silver Plated Copper / 0.58mm
Solid
Tinned Copper Braid & Foil
Canford
SDV-F-R
AS/BH
DC-12GHz
75 ohms
PVC / 6.8mm
FHDPE / 4.8mm
Copper / 19/0.2mm
Stranded/Flexible
Tinned Copper Braid & Foil
Canford
SVD-XF
AS/BH
DC-12GHz
75 ohms
PVC / 7.2mm
FHDPE / 4.8mm
Copper / 19/0.2mm
Stranded/Flexible
Double Tinned Copper Braid
Mini RG59
BA
DC-1GHz
75 ohms
PVC / 3.81mm
Foam PE / 2.16mm
Copper / 0.46mm
Solid
Copper Braid
RG140/U
AB
75 ohms
5.92mm
PTFE / 3.71mm
0.64mm
Solid
Braid
RG142B/U
AA
DC-12GHz
50 ohms
FEP / 4.95
PTFE / 2.95mm
Silver Plated Copper / 0.94mm
Solid
Silver Plated Copper Braid
RG174/U
AD
DC-1GHz
50 ohms
PVC / 2.8mm
Low Density PE / 1.50mm
Copper Clad Steel / 0.48mm
Stranded
Tinned Copper Braid
RG179
AF/DE
DC-3GHz
75 ohms
FEP / 2.5mm
PTFE / 1.60mm
Silver Plated Copper / 0.3mm
Stranded
Silver Plated Copper Braid
RG180B/U
BA
DC-3GHz
95 ohms
FEP / 3.58mm
PTFE / 2.59mm
Copper Clad Steel / 0.3mm
Stranded
Silver Plated Copper Braid
RG187A/U
AF
DC-3GHz
75 ohms
PTFE / 2.65mm
PTFE / 1.55mm
Silver Plated Copper / 0.31mm
Stranded
Silver Plated Copper Braid
RG188A/U
AD
DC-3GHz
50 ohms
PTFE / 2.6mm
PTFE / 1.55mm
Copper Clad Steel, Silver / 0.54mm
Stranded
Silver Plated Copper Braid
RG213/U
AK
DC-1GHz
50 ohms
PVC / 10.28mm
PE / 7.24mm
Copper / 2.26mm
Stranded
Copper Braid
RG316/U
AD
DC-3GHz
50 ohms
FEP / 2.54mm
PTFE / 1.52mm
Silver Plated Copper / 0.54mm
Stranded
Silver Plated Copper Braid
RG58C/U
AA
DC-1GHz
50 ohms
PVC / 4.95mm
PE / 2.95m
Tin Plated Copper / 0.9mm
Stranded
Tin Plated Copper
RG59
AB
DC-1GHz
75 ohms
PVC / 6.15mm
SPE / 3.70mm
Copper Clad Steel / 0.64mm
Solid
Copper Braid
RG6
AS/BH
DC-1GHz
75 ohms
PVC / 8.43mm
PE / 4.7mm
Copper Clad Steel / 0.74mm
Solid
Silver Plated Copper Braid
UHD 0.6/2.6
BG
DC-12GHz
75 ohms
FR-PVC / 4.05mm
FPE / 2.59mm
Silver Plated Copper / 0.58mm
Solid
Tinned Copper Braid & Foil
URM 43
AA
DC-1GHz
50 ohms
PVC / 5.00mm
PE / 2.95mm
Copper / 0.9mm
Solid
Copper Braid
Key to acronyms:
PVC - Polyvinyl chloride
FHDPE - Gas injected Foam High-Density Polyethylene
LSZH - Low Smoke Zero Halogen
PE - Polyethylene
FEP - Fluorinated Ethylene Propylene
PTFE - Polytetrafluoroethylene