Our showcase of products celebrating Vision Stuttgart 2020 week
Cambridge Electronic Industries Offer The Worlds First Range of Coaxial CXP-12 Repeaters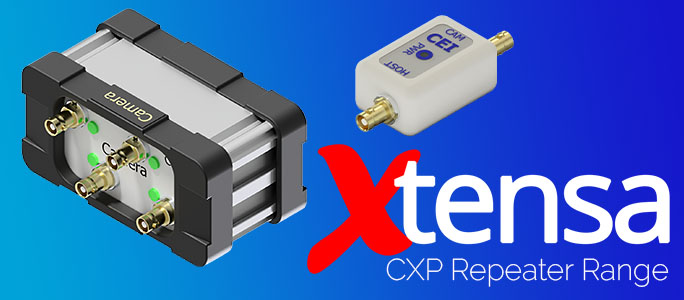 Cambridge Electronic Industries, are proud to announce the world's first CoaXPress coaxial repeater range capable of working at speeds up to an including CXP-12 & CXP-6. The Xtensa range offers the user not only the ability to significantly increase the transmission distance of a connection but also restores the signal integrity in both directions, expanding the uses of this revolutionary device within the machine vision markets.
The Xtensa Challenger is a small lightweight qualified device and is available in either a single, dual or quad connection formats and has been approved by the JIIA as compliant with the CoaXPress V2.0 standard.
The Xtensa Neuron is the smallest CXP Repeater available at only 48mm long, including the connectors, 20mm high and 14mm deep. The Neuron can be discreetly placed in a post-installation environment or designed within existing equipment.


Our CXP-12 Connector Range


Our CXP-6 DIN 1.0/2.3 Connector Range
Our showcase gives some of the highlights of our extensive range of PCB mounted BNC and Micro BNC connectors that work at all speeds up to 12GHz. We offer a selection of mounting styles as well as the option to custom design any of our connectors.
We offer a wide selection of styles of connector in the DIN 1.0/2.3 format. These tiny connectors are rated up to speeds of 6GHz and meet the JIIA CXP-6 specification.


Interchangeable Connectors


CoaXVision Cable Assemblies
Interchangeable connectors offer the designer the ultimate in design flexibility. Available in two styles and achieving speeds of CXP-12 and CXP-6, these ranges are perfect for anyone wanting to create a product with different configurations.
Using our own CoaXVision cable mounted connectors in format, we are able to design and manufacture bespoke cable assemblies. We use only premium Belden cable in these assemblies to offer the optimum performance from our end product.